Papad Spring Rolls
Author: Dr. Aroona Reejhsinghani
Recipe Type: Side Dish
Cuisine: Indian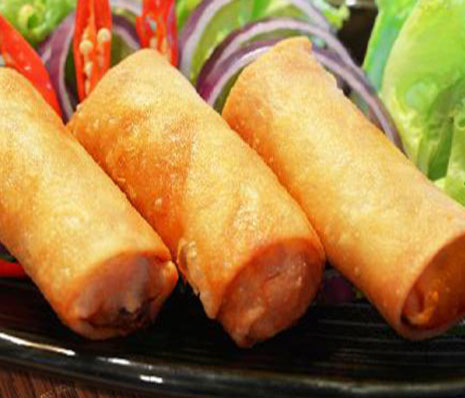 Ingredients
| 1) | Papads | 6 piece |
| --- | --- | --- |
| 2) | Grated carrots, capsicums and cabbage | 1/2 cup each |
| 3) | Grated ginger and garlic | 1 tbsp each |
| 4) | Green chillies, minced | 2 |
| 5) | Chopped coriander leaves | 2 tblsps |
| 6) | Ajino motto | 1/8 tbsp |
| 7) | Cornflour | 1 tbsp |
| 8) | Soya sauce | 1 tblsps |
| 9) | Salt to taste | |
Instructions
Steps to assemble Papad Spring Rolls
Heat 1 tsp. oil and fry ginger and garlic till soft.
Mix in all the vegetables with cornflour and remove form fire.
Immerse the papads one by one in water for a few seconds.
Place on a wet cloth.
Put vegetable mixture on one side of the papad and roll up into a tight roll.
Seal edges with a paste made of refined flour and water.
Leave roll to dry for 5 to 10 minutes.
Then deep fry the rolls to a golden colour.
Drain and cut into slices slantwise and serve with sauce of your choice.
If you like non-vegetarian food you can add shredded cooked chicken, fish or prawns to the filling.
Notes
You can also bake them in microwave oven after brushing them with oil or even in ordinary oven.