Papad Kebabs
Author: Dr. Aroona Reejhsinghani
Recipe Type: Side Dish
Cuisine: Indian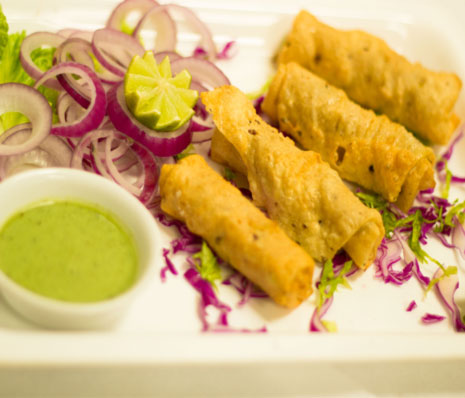 Ingredients
| 1) | Papads | 8 piece |
| --- | --- | --- |
| 2) | Cumin seeds | 1ach |
| 3) | Ginger and garlic, minced | 1 tbsp |
| 4) | Small onion, minced | 1 piece |
| 5) | Medium potatoes, boiled, peeled and sliced finely | 2 piece |
| 6) | Boiled green peas | 1 cup |
| 7) | Chopped coriander leaves | 2 tblsp |
| 8) | Green chillies, minced | 2 piece |
| 9) | Turmeric powder | 1/4 tbsp |
| 10) | Coarsely pounded coriander and anise seeds | 1 tbsp |
| 11) | Grated paneer and cheese | 50 gms. |
| 12) | Salt to taste | |
Instructions
Steps to assemble Papad Kebabs
Heat 1 tblsp oil and fry cumin seeds.
When they stop popping, mix in ginger, garlic and onions and cook till soft.
Mix in the remaining ingredients and remove from fire.
Soak the papads one by one in a bowl of water for a few seconds.
Put on a wet cloth.
Put filling in the centre of each and roll up into a tight roll.
Seal the edges with a paste of flour and water.
Set aside for a few minutes to dry and then deep fry to a golden colour.
Serve with sauce or chutney of choice.