Karare Papad ki Curry
Author: Dr. Aroona Reejhsinghani
Recipe Type: Side Dish
Cuisine: Indian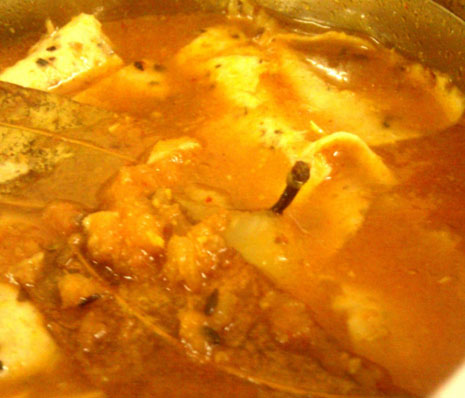 Ingredients
| 1) | Grated fresh coconut | 2 cups |
| --- | --- | --- |
| 2) | Medium onion | 1 piece |
| 3) | Grated ginger and garlic | 1/2 tbsp |
| 4) | Tamrind paste | 2 tblsps |
| 5) | Red kashmiri chillies | 4 piece |
| 6) | Cumin seeds | 1 tbsp |
| 7) | Dhania jeera powder | 1 tblsp |
| 8) | Turmeric | 1/4 tbsp |
| 9) | Chopped coriander leaves | 1 tblsp |
| 10) | Curry leaves | 12 |
| 11) | Moong dal papads | 6 piece |
| 12) | Salt to suit the taste | 1blsps |
Instructions
Steps to assemble Karare Papad ki Curry
Grind together coconut, onion, ginger, garlic, chillies and curry leaves.
Heat 2 tblsps.oil and fry the paste to a golden colour.
Add all the spices and salt.
Mix thoroughly and add enough water along with tamrind to give it a curry like consistency.
Fry the papads to a golden colour, and break into pieces and gently mix into the curry.
Fry cumin seeds in 1 tblsp. oil and put over the curry.
Decorate with coriander leaves.